The Sausage Dog Club was inspired by "Ned" the very first Dachshund I started looking after. Having always admired the breed and longed for one of my own we instantly had a bond. I started learning lots more about the breed, their traits, characteristics, likes and dislikes and realized how important it is to socialize them. Dachshundshave such wonderful personalities and really get the chance to display this when socializing with their own kind ,hence the sausage dog club was created.
Lots of people think Dachshunds don't need much walking and its very easy to end up not giving them the exercise and socializing they really need. They can end up developing unwanted characteristics such as aggression, anxiety and can become very fearful of dogs and humans when put in social situations. Although they do make excellent lap dogs they are Hounds and need a lot more exercise and mental simulation than people realize.
As I look after Ned every Friday, the idea was to have a sausage dog social on that day, to get together with other Daxies and their owners and have some sausage dog fun! We started off with just 6 at our first meet and it has grown and grown every week having now had over 35 Dashies attended the club. The club has proven to be a great success. Apart from being good fun, it has also really helped some of the memberswith their socialization and have seen great improvements in their confidence and personality since first joining the club.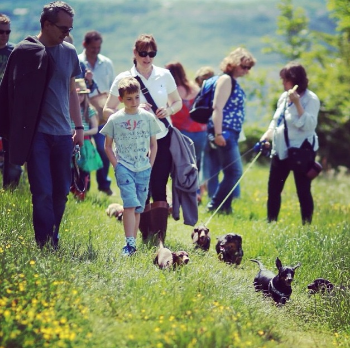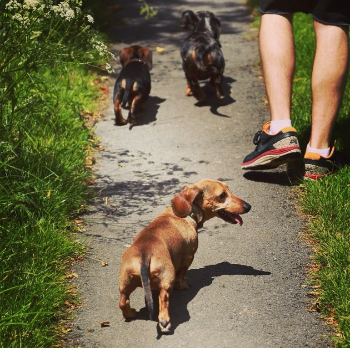 The S.D.C is also a great opportunity for all us mad sausage dog lovers to meet up, talk about the breed, share tips on training and care, while letting the little sausages play.
If you are interested in joining us, we meet on the first Saturday of every month for a walk at various locations around Bath, which i will keep you posted through our website, social media and email .See our S.D.C events page for details on our next walk.
Please feel free to text, ring or email me for more information. I am happy to answer any questions or queries.
S.D.C is a non profit, community group so no money or membership is needed you just have to have a sausage dog!
Please contact info@thesausagedogclub.co.uk for more details.
"A huge thank you to Lauren for starting Bath Sausage Dog Club. Being able to take Daisy our then 13 week old Mini Dachshund to Bath Sausage Dog club to help with her socialization was so good for her, we cant recommend going highly enough.
We had tried socialization classes with the Vet, but having 1 inch legs and weighing 1.5 Kg all the other puppies of varying breeds towered over and dwarfed her. By nature boisterous puppies leapt and chased each other around and Daisy spent most of the time hiding and taking cover.
From the 1st week of taking Daisy to Sausage Dog Club, meeting up with other Dachshunds meant she really came out of her shell, playing, roaming around and enjoying the company of dogs her own size. Her confidence with all dogs is now excellent, size is no longer a problem.
I would thoroughly recommend taking your Sausage of any age, size or temperament to this friendly, social and fun group. It's great for tips and a catch up about our favorite four legged friends".
Helen and Steve Bush, Daisy Miniature Dachshund